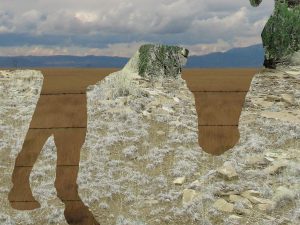 Dr. Laurel Lampela is Professor of Art Education and a member of the Women Studies faculty at UNM. She received her PhD in Art Education from the Ohio State University in 1990. Her scholarly interests include quality instruction in visual arts education that includes information relating to the understanding of lesbian and gay content in artists' works and researching the work of historical and contemporary lesbian artists.
Prof. Lampela received the New Mexico Art Educator of the Year Award – Higher Education Division in 2016.
Prof. Lampela's creative work involves the construction of hybrid realities through digital collages and polymer gravure prints. Her work can be seen at her website.
Prior to her tenure at UNM, Prof. Lampela held appointments at Cleveland State University and at Marshall University. She also taught art for several years at the elementary and high school levels. Prof. Lampela authored A Practical Guide to Supplement the Teaching of Secondary Art Methods (Kendall Hunt) and is co-editor of From Our Voices: Art Educators and Artists Speak Out About Lesbian Gay Bisexual and Transgendered Issues (Kendall Hunt). She has authored numerous articles for such journals as Studies in Art Education, Visual Arts Research, Art Education, The Journal of Social Theory in Art Education, The Journal of Gay and Lesbian Issues in Education, and the Journal of LGBT Youth. Prof. Lampela is the co-founder of the Lesbian, Gay, Bisexual, and Transgendered Issues Caucus of the National Art Education Association.
Contact Dr. Lampela
lampela@unm.edu
Art Education Program
Masley Hall 205
MSC04 2560
1 University of New Mexico
Albuquerque, NM 87131